Sunday, 22 October
Arrival in Utrecht

18:00
Event opening and dinner gathering

Monday, 23 October
8:30-13:00
Subarachnoid haemorrhage and ruptured intracranial aneurysms
Diagnosis of subarachnoid haemorrhage and ruptured aneurysms
Perimesencephalic haemorrhage
Other causes of spontaneous subarachnoid haemorrhage
Prevention and management of rebleeding
Prevention and management of delayed cerebral ischemia
Diagnosis and treatment of hydrocephalus
Outcome and long term sequelae in patients with ruptured intracranial aneurysms
13:00 – 14:00
Lunch
14:00-17:00
Screening and management of patients with unruptured intracranial aneurysms
Screening: high risk groups, pro's and con's and items to discuss
Treatment modalities for occlusion and prediction of complications
Risk factors for rupture and their application in prediction models
Follow up imaging and non-interventional methods to prevent aneurysm rupture
Shared decision making in screening and management of patients with unruptured intracranial aneurysms
17:00 – 21:00
Social event and dinner

Tuesday, 24 October
8:30 – 12:45     Insights in research and new developments
Insight into the wall of the aneurysm
New treatment modalities for aneurysm occlusion
Genetics in intracranial aneurysms and rupture
Novel radiological markers to predict development and growth of aneurysms
Development and validation of prediction tools
New therapeutic targets for prevention of rupture of aneurysms
Organoid models to study the consequences of SAH
Event closing 
The Focused Workshop venue is located in the beautiful medieval center of Utrecht. Built in the 16th century as a "plague house" (which is why it is on the edge of the medieval center), it was later used as a barracks building, church and, in the early 20th century, as a pharmacology laboratory of the medical faculty, among other things. It is now used as a venue for concerts, meetings and symposia.
Travel Information 
Utrecht is well connected to Schiphol Amsterdam Airport.
The most convenient and ecological way to reach Utrecht is by train. If you would decide to travel to The Netherlands by plane, you can take a train from Schiphol airport to Utrecht Central Station. The intercity train runs 4 times per hour, and will take around 30 minutes to reach Utrecht.
The event hotel is in downtown Utrecht, within walking distance from the Central Station.
If you prefer to reach Utrecht by taxi from Amsterdam, we suggest you prebook in advance, for example via Utrechtse Taxi Centrale, which offers a fixed rate of €69.00. A metred taxi ride is considerably more expensive.
LOCAL ORGANISING COMMITTEE
Gabriel JE Rinkel, MD, PhD
LOC Chair
European Stroke Organisation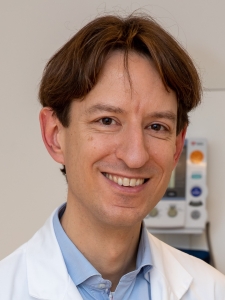 Mervyn D.I. Vergouwen, MD, PhD
Neurologist
European Stroke Organisation
Ynte M. Ruigrok, MD, PhD
Neurologist
European Stroke Organisation
Paut Greebe, PhD
Local Event Manager
European Stroke Organisation
WHO SHOULD APPLY?
Selection criteria:
Open to trainees and early career physicians working in neurovascular disease
Applicants should be fluent in English
Applicants are not required to be ESO Members
The organising committee will select participants based on their:
Application documents
Country of origin (not more than 2 participants per country; the host country may have 3 participants)
The expected benefit to the individual and to his/her stroke unit and country
If there are available places, applications from non-European countries may be considered by the organisers. The list of participants will be approved by the ESO Executive Committee.
For successful applicants, tuition, accommodation, meals/coffee breaks, and social programme costs are all covered. Participants are expected to cover their travel expenses to and from Utrecht and any personal expenses outside of the official programme. Accompanying persons are not permitted.
HOW TO APPLY
The application period for ESO Focused Workshop 2023 is now open until 12 June 2023.
Interested applicants are requested to submit the following documents:
Application form (available here)
Personal statement of motivation (1/2 page)
CV (1-2 pages)
1 letter of recommendation from a supervisor or Head of Department
Complete applications should be sent via email to the address indicated on the application form. Please note that incomplete applications will not be considered.
The deadline to receive applications is 12 June 2023.